CHAPTER VI. QUILTING PATTERNS
Patterns for (*)noted items are currently available at mckimstudios.com.
Keep watch for more items to become available!




*No. 253 Feather Circle
3, 6, or 8 inches
State size wanted
20 cents



*No. 259 Four Flowers
6" Square for 9" blocks
20 cents


*No. 250 Dove of Peace
For blocks from 11 to 14 inches square—20 cents

*No. 254 Pineapple
7 by 9—25 cents

No. 255 Lace Vein Feather
Right and left patterns—Each 4 by 5 inches—25 cents
NO MORE TEDIOUS MARKING OF QUILTS IN THE OLD-FASHIONED WAY
Stamp Them Quickly by Using These Perforated Patterns!
PERFORATED QUILTING PATTERNS
MARKING a quilt for quilting is more nearly like an artist's job than any step in the making of a quilt. On pieced blocks straight lines, which follow the seams of the patchwork or cross into checkerboard or diamond effects, are usually best. On the alternate plain blocks or strips and on borders the quilting may be as ornate as desired.

We have adapted some of the old-time favorite designs in addition to originating new patterns, to fit other space plans. These come on a special tough but transparent paper, the design perforated so that it may be used over and over with stamping paste.

HOW TO STAMP
TO USE our paste, wet a piece of cotton lightly with benzine or naptha, then rub over the paste until the cotton shows color. Place your perforated pattern over your material, smooth side of the pattern up. Hold pattern firmly in place and rub lightly over the design with your cotton. Be careful not to get your cotton too wet. After you have finished using the pattern, pour some benzine freely on a piece of cotton and clean pattern through the perforations thoroughly. This paste will not smear like a pencil or powder but does not remove easily. If stamped lightly the thread should cover it. If you practice first on scrap material you can soon judge how damp to have the cotton, how little paste will transfer, and then there will be no mistakes.

STAMPING PASTE
WE SUPPLY gray or yellow stamping paste under number 206 at 25 cents postpaid. This box of paste is very effective to use in stamping and there is enough of it to last for many stampings. Please state color wanted. No. 206, Box, 25 cents.

---
Note: The actual size of each perforated pattern is given. It can be used on a much larger block.
---
No. 328 President's Wreath
13 Inches—25 cents
No. 263 Spider Web
12 Inches—25 cents
*No. 295 Butterfly
11 Inches—25 cents
No. 329 Plumed Swastika
18 Inches—30 cents
*No. 280 Horn of Plenty
9 Inches—25 cents
No. 296 Wedding Ring Special
2 Parts—25 cents

No. 205 Conventional Rose and Blue bell [not shown]
will space into a 14-inch block or can be
used singly on border or corners
25 cents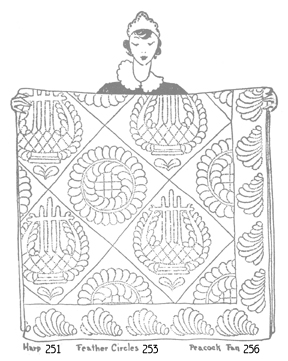 No. 251 Harp Pattern
14 inches exact—Use on blocks up to 18 inches
20 cents

No. 256 Peacock Fan
For borders—7 inches high—25 cents

*No. 253 Feather Circle
10, 14 or 18 inches
State size wanted—25 cents
MAPLE LEAF, about 3 1/2 inches across, may be used to fill in corners in connection with larger patterns or four on a block. The Shell will make a charming border repeat. It is 3 1/2 x 5 1/2, just right for many places in marking out a quilt. Thistle is the largest, a 4 1/2-inch square that is beautiful for corners, between scallops, for a border, or centered four on a square.

No. 330, Maple Leaf, Shell and Thistle, 30 cents.

No. 327 Cherry Basket
10 Inches—25 cents
*No. 705P Oak Leaf and Acorn
18 Inches—30 cents
No. 279 Snow Flakes
10 Inches—25 cents
DAISY CORNER
A PERFORATED pattern of proper quality may be placed wherever one wishes it, stamped, replaced and re-stamped a great number of times. The daisy corner is not a large pattern, only nine inches along its longer side, yet by combining it with itself it may be used on nine-inch squares or 12-inch squares as shown in the sketch, or repeated for a six-inch border with interesting corners. Perforated on tough bond paper, the Daisy Corner is No. 350, the price 25 cents.

No. 350 Perforated Daisy Pattern, 25 cents.
No. 206 Box Stamping Wax, 25 cents





INTRODUCTION · CHAPTER 1 · CHAPTER 2 · CHAPTER 3

CHAPTER 4 · CHAPTER 5 · CHAPTER 6 · CHAPTER 7